Today is a good day. It is 10th of October 2010. 10/10/10. I wonder how many babies will be born today with this cool birthday.
Tänään on kiva päivä. Kymmenes kymmenettä vuonna kakstuhattakymmenen. 10.10.10. Kuinkahan moni vauva saa tämmösen hauskan sosiaaliturvatunnuksen alkuosan?
It is also a flag day. In my calender certain days are marked with a flag. It means you take out your flag and fly it high, in celebration of something grand. Today is the day of Finland's National Writer, Aleksis Kivi. He lived 10 October 1834- 31 December 1872. He was born in this house in Nurmijärvi (my sister lives there now. Not in this house, but in that town).
Kuten valistunut lukijamme tietää, tänään on liputuspäivä. Oletko jo laittanut lipun salkoon? Suomen Kansalliskirjailijan, Aleksis Kiven päivä. Kivihän eli 10. lokakuuta 1834-31 joulukuuta 1872. Kuvassa on Kiven syntymämökki Nurmijärvellä (siskokultani asuu nyt siellä. Ei siis siinä mökissä, vaan samalla paikkakunnalla).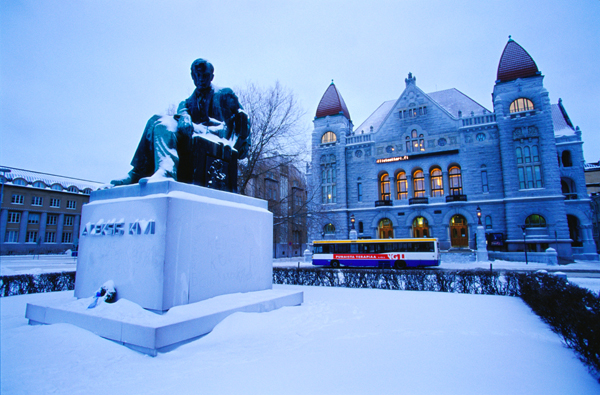 Can you see him sitting up there at the railway station square in Helsinki? It looks a bit cold. Let's see if we can get a close up of his face...
Kivi istuu Helsingin rautatieaseman aukiolla. On vähän kylmän näköstä. Katotaanpa saadaanko lähikuvaa näkymään...
Here. Aleksis Kivi is called the national writer because he was the first author to write high literature in Finnish. His novel 'Seven Brothers' took him 10 years to write.
Tässä. Kivi on kansalliskirjailijamme, koska hän kirjoitti ensimmäisten joukossa korkeakirjallisuutta suomen kielellä. Hänen romaaninsa Seitsemän Veljestä oli työn alla 10 vuotta.
As a Finn I have read the book. It left permanent impacts on me. For example, when my future-husband asked me how many kids I would like to have, I answered 'Seven sons'. Well, not the kind of sons as in Kivi's novel (they were wild and disobedient and escaped schooling to the forest), but you know young people, full of dreams and idealism.
Suomalaisena olen toki lukenut kirjan. Se jätti minuun pysyviä vaikutuksia. Esimerkiksi, kun tuleva mieheni kysyi minulta kuinka monta lasta haluisin saada, oli jao vastaukseni "Seitsemän poikaa". No, ei ihan semmoisia kuin Jukolan jurrit, mutta nuoruudessa ihmisellä on unelmia ja idealismia.
One of my very favorite ways to read this book is the version for kids by Mauri Kunnas (he deserves his own post, maybe in the future...I did not think about book/author reviews when I started writing this blog...). When he wrote and drew and published this book, he sold 127 000 books in three months. It has been published also in English. If nothing else, please check his pages after reading my blog post! He tells the story of writing Seven Dog Brothers in detail. It is fun!
Yksi suosikkiversioni tästä kirjasta on Mauri Kunnaksen koiraveljekset. (Mauri ansaitsisi oman postauksen...ehkä myöhemmin...en ollut ihan ajatellut kirja/kirjailija-arvostelijaksi ryhtyväni tätä blogia perustaessani). Kun Kunnaksen kirja ilmestyi, se myi 127 000 kappaletta kolmessa kuukaudessa.
Jos et muuta, niin käy lukemassa Mauri Kunnaksen sivuilta miten hän kirjoitti Seitsemän Koiraveljestä. Se on hauska!
You can read the book online, but unfortunately I only found it in Finnish. But hey, learning languages is good for your brain! Or, you can just order it in English...
Ja täältä voi käydä lukemassa koko kirjan:
Happy Birthday Aleksis!
Hyvää syntymäpäivää Aleksis!
p.s. I do not want to have seven sons anymore. Somehow I came to my senses. Somehow. Like, after giving birth three times and already having one son.
En enää halua seitsemää poikaa. Jotenkin tulin järkiini. Jotenkin. Kuten kolmen synnytyksen jälkeen, ja poikalapsen äitinä jo neljän vuoden kokemuksella.